In this blog post I break down what frames to use, what materials you need, if you should use the mat, float the print or fit the print to the frame and how to frame the print in four easy steps. As an artist and avid decorator I find framing to be a fun task -- you get to save money by shopping around and get to pick out the perfect frame to suit the room it will be in. Plus once you do your first one it just comes naturally after! 
Buying your first limited edition print can be disheartening if they don't come already framed. I totally understand this concept because framing can be scary and seem annoying if you've never done it before, but don't worry we will go over everything you need to know! If you aren't sure if you should purchase a print, just remember to check that is hand signed, dated and numbered by the artist so you can always resell it at a higher price in the future. I hand sign, date and number all of my limited edition prints!
What Frame To Use
If you aren't sure what frame you should use or where to look I have two recommendations for Australian buyers:
Country Road frames - If your budget is a little higher and you want to invest in a high quality frame. Country Road offer a seamless look in various colour tones and styles, plus it's real glass!

Officeworks frames - If you are trying to save money on a frame, these frames are a little wider in style but it really depends on what kind of look you are going for. You can also buy them in bulk and save a tonne of money!
If you are purchasing frames in America, I recommend Blick frames. They have a great selection in different sizes and colours.  
Of course, you can always use a preloved frame from a charity store, but I really recommend buying something that is new as it will have a mat already in it and have no damage to the glass or wear and tear from previous owners. 
Mat, Float or Fit to Frame?
So you've received your print in the mail, you've laid it flat for the past two days and you've purchased your frame. You're excited because you are about to add some extra life to a room or gift it as a present to a loved one.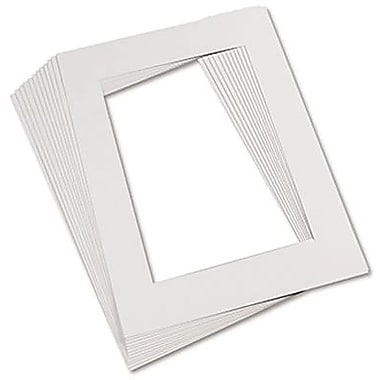 Above: a pre cut mat!
If you're unsure what the mat is, it is the thin, flat piece of paper included within the frame. This helps to seperate the print from the glass and add an extra border around the print.
I always recommend using the mat within the frame for my limited edition prints. You can purchase pre cut mats in different colours but generally they come in white with most frame purchases. But I love using white and black, it helps to make the artwork become the star of the show! 
If you don't want to use the mat and you'd like to frame it to the edge, make sure the frame is the same size as the print.
I do not recommend floating the prints by yourself, unless you have professional acid free tabs for floating. I would recommend taking the print to a professional framer for floating. Most people float their prints when there is cool texture on the papers edge. 
What are Archival Mounting Corners?
This part is super important as you will need these to stop the frustration of the print falling out of the mat after framing. 
Above: What archival mounts look like!
Why can't I just use sticky tape? Well, sticky tape has acids in there that help bind the glue and that can overtime damage the print making it turn yellow. Also, if you want to sell the print the sticky tape could damage the print when you remove it. Archival mounts are easy to use and protect your print from long term acid damage and any unnecessary wear and tear. Some mounts don't have an adhesive side to them, so you may need sticky tape to attach them to the mount. 
You can purchase archival mounts from Blick and Officeworks!
How to Frame Your Madbutt Print
What You Will Need -
1x Frame with a mat
1x Print
1x Archival Mounting Corners
1x Sticky Tape (Apply to adhesive mounting corners)
 Step 1:
Lay your frame on its front (face down) preferably on a clean and flat surface, a table is perfect. Do not do this sitting on your legs or bed as you could crack the glass in the frame. 
Start to disassemble the back of the frame, by moving the back holders to the side and pull out the contents. Remove everything but the glass, it can stay in the frame.
You should have the backing and mount left out. You can throw out any protective paper or filler from the frame contents.
Step 2: 
To apply the archival mounting corners to the back of the mat, first place the archival mounts onto the corners at the opening in the mat (where the missing part is) about 1 millimetre from the edge. You want the lesser seen part at the front (face down) and the larger section facing you.
If there is an adhesive on the mounting corners, remove the tab to expose the adhesive and press down to stick it into place.
If your mounts don't have adhesive apply a small amount of sticky tape to the mounting corners.
Step 3:
Now that your mounting tabs are in place you can place your print inside the of mat using the mounting tabs to hold it in place.
Step 4: 
Check your mount and frame fit perfectly before placing into the frame. 
Clean the glass in the frame if there is fragments of dust and dirt. Wipe dry or wait to dry for two to four minutes.
Place the mount with print face down into the glass. 
Place the backing of the frame on top of the mount with print.
Move the backing tracks back into place. 
You have framed your print! 
It really isn't that hard once you do your first one and now you can start adding to your collection of artworks and invest more into artworks. Thank you so much for reading this post and I hope you found it helpful. 
xx Madelaine