Experimenting with collage is something I have really enjoyed exploring over the past two years. I enjoy the whole experience from trawling through hundreds of magazines both online and in physical form to finding the perfect glue and paints to compliment. I will always love the smell of an old magazine, it reminds me of fond memories and makes me wonder how many hands and eyes have graced these pages before I make something beautiful from it.

As I get back into making hand cut collages I catch myself thinking about the artists who have inspired me to push the boundaries and think further outside of the box. I want to share these artist's with you. These are my top five favourite artists who have incorporated collage into their works and practice. They deserve to be celebrated and remembered for their fantastic creations.
1. Henri Matisse 
Henri Matisse (b. 1869 - d. 1954
) was a french artist known for both his use of colour and original draughtsmanship. He was a draughtsman, printmaker and sculptor, but is primarily known as a painter.
He is commonly regarded as one of the artists who best helped to define the revolutionary developments in the visual arts throughout the opening of the twentieth century, responsible for significant developments in painting and sculpture. Matisse and Picasso helped to define and influence radical contemporary art in the 20th century. Matisse is recognised as a leading figure in modern art with his mastery of expressive language of colour and drawing which is displayed in a body of work spanning over half a century. 
Matisse was diagnosed with abdominal cancer in 1941 and underwent surgery that left him chair and bed bound. As painting and sculpture became a physical challenge he turned to a new type of medium. With the help of his assistants, he began creating cut paper collages or decoupage (as it was known back then). His cutouts are among the most admired and influential works of Matisse's entire career.  
La Gerbe, one of Matisse's last works (1953).
He would cut sheets of paper, pre-painted with gouache by his assistants, into shapes of varying colours and sizes, and arrange them to form lively compositions. Initially, these pieces were modest in size, but eventually transformed into murals or room sized works. The result was a distinct and dimensional complexity - an art form that was not quite painting, but not quite sculpture. 
This new lease on life led to an extraordinary burst of expression for Matisse. In 1947 he published Jazz, a limited edition book containing prints of colourful paper cut collages accompanied by his written thoughts. 
Read more about Henri Matisse here.
2. Dash Snow 
Dashiell "Dash" Snow (b. 1981 - d. 2009) was an American artist based in New York City. He grew up on the Upper West Side of New York and was known to be rebellious as a child. In the 1990's he was a member of the IRAK graffiti crew and used the tag "SACE". His family was well known for their philanthropy and collection of American art.
Although he did not graduate from high school, his career as an artist started as a teenager when he started to take photographs of places, as he says, he might no remember the next day due to hard partying. In 2005 he had his first solo art exhibition and was included in the 2006 Whitney Biennial. The Wall Street Journal profiled Dash as one of ten emerging artists in an article titled "The 23-Year Old Masters". Dash was most infamously known for using his own semen as material applied to or splashed across newspaper photographs of police officers and other authority figures. 
Read more about Dash Snow here. 
3. Lee Krasner
Lenore Krasner (b. 1908 - d. 1984) was an American abstract expressionist painter in the second half of the 20th century. She is also famously known as the wife of Jackson Pollock. She is one of the few female artists to have had a retrospective show at MoMA. 
From an early age Krasner knew she wanted to pursue art as a career. Her career began as a teenager, she sought out enrolment at Washington Irving High School for Girls since they offered an art major. After graduating she attended the Women's Art School of Cooper Union on a scholarship. From there she continued to expand her knowledge of art well into the 1930's. 
She identified as an abstract expressionist due to her abstract, gestural and expressive works. She worked in painting, collage painting, charcoal drawing and occasionally mosaics. She would often cut apart her own drawings and paintings to create her collage paintings. She also commonly revised or completely destroyed an entire series of works due to her critical nature. As a result her surviving body of work is relatively small. 
Read more about Lee Krasner here.
4. Frida Kahlo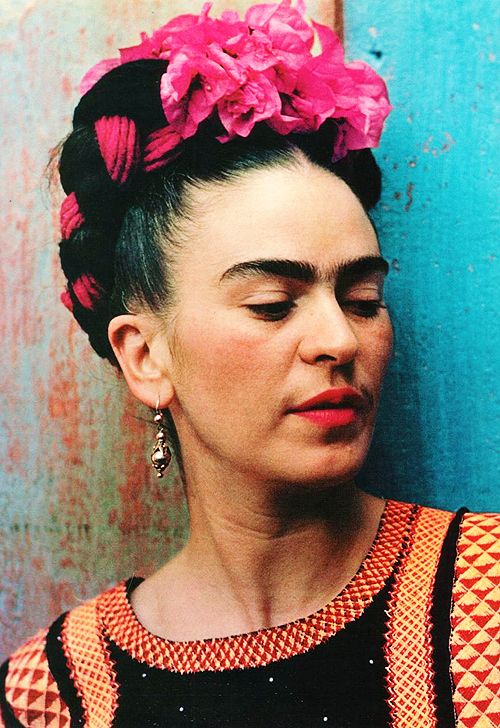 Frida Kahlo (b. 1907 - d. 1954) was a Mexican painter, who mostly painted self-portraits. Inspired by Mexican popular culture, she employed a naïve folk art style to explore questions of identity, post colonialism, gender, class and race in Mexican society. Her paintings often had  strong autobiographical elements and mixed realism with fantasy. In addition to belonging to the post-revolutionary Mexican movement, which sough to define Mexican identity, Kahlo has been described as a surrealist or magical realist. 
Kahlo traveled to the United States on several occasions with her then husband Diego Rivera. Towards the end of their extended stay in the US she would grow homesick for her native Mexico. She did not feel at home in the "New World". She desperately wanted to return to Mexico but Diego refused. In 1933 she painted the work "My Dress Hangs There" which paints a collage that depicts the American Capitalistic way of life. This painting is unusual not only because it is a collage, but also that she didn't feature herself in the painting... probably a testament to the fact she didn't want to be there.
In 1938, Kahlo had a major exhibition at a New York City gallery selling about half of the paintings shown there. Although she didn't consider herself a surrealist painter she became close friends with one of the primary figures in that movement, Andre Breton. The following year Kahlo went to live in Paris for sometime. There she exhibited some of her paintings and developed friendships with artists such as Marcel Duchamp and Pablo Picasso. 
My Dress Hangs There, 1932
After Kahlo's death, the feminist movement of the 1970s led to a renewed interest in her life and work, as Kahlo was viewed by many as an icon of female creativity. 
Read more about Frida Kahlo here.
5. Louise Bourgeois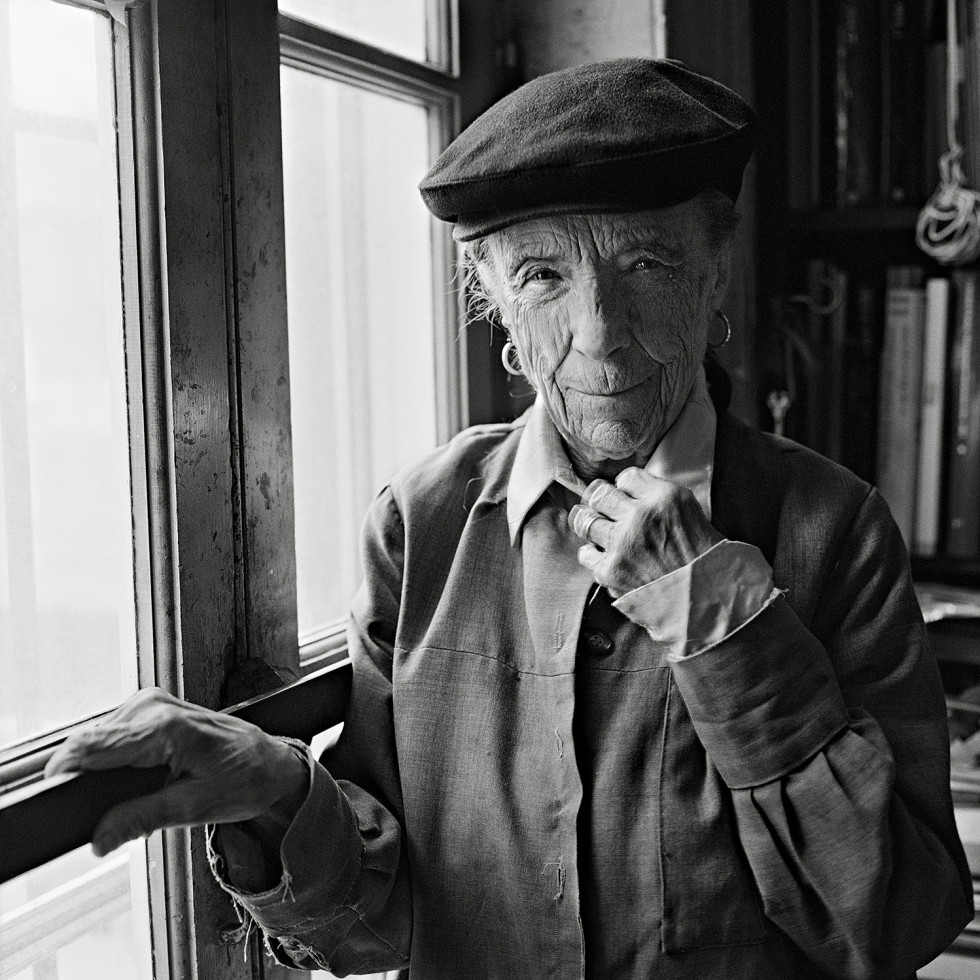 Louise Bourgeois (b. 1911 - d. 2010) was a French-American artist best known for her large scale sculpture and installation art. She was also a prolific painter and printmaker. She explored a variety of themes over the course of her long career including domesticity and the family, sexuality and the body, as well as death and subconscious. Her work has much in common with Surrealism and Feminist art, although she is not formally affiliated with a particular artistic movement. 
She started "fabric drawing" by the mid 1990's by assorting old napkins, table cloths and other assorted materials collected over a lifetime into a series of collages and sculptures. Although her connection to fabric goes back to her childhood years when she helped out in her family's tapestry restoration workshop. As an adult, she longed associated the act of sewing with repairing on a symbolic level, as she attempted to fix the damage she caused in personal relationships.